Another Exclusive Presentation of Landmark Original Paintings from "The Immortals Collections" and "The Conlon Collections" in Collaboration with Legendary Auctions.
For this final piece in his two-year "Conlon Collection" series, Dick Perez expressed interest in pursuing a looser, freer, more painterly style that pushes the boundaries of his trademark Impressionism. Form over function. Suggestion over actuality. Scene over subject. Thus we have this cutting-edge work in Perez's ongoing evolution: A wispy, almost dreamy tableau. This is baseball in its purest sense. With lush strokes and an inspired color palette, it is—just as advertised by the signage to which our slider gestures—"perfection."
The image caption in Neal and Constance McCabe's Conlon retrospective Baseball's Golden Age reads, "Hilltop Park, New York City / May 18, 1912 / New York base runner Bert Daniels has just been thrown out at the plate by Cleveland center fielder Shoeless Joe Jackson. Catcher Ted Easterly applies the tag as umpire Billy Evans makes the call. Cleveland third baseman Ivy Olson looks on. Charles M. Conlon: 'From his vantage point twenty feet from the plate, with slide drawn and accurate focus, the photographer watched. About a dozen feet from the goal the runner dropped for his slide, and almost at the same instant, as he slid forward, the spikes on his shoes glistening in the bright sun, the ball reached the catcher. One quick sweep of the arm, and the runner was touched. Through the cloud of dust that arose as the runner's feet tore up the earth, the umpire looked and waved his decision…The umpire called the man out, as he saw the play..."
In the Words of Dick Perez: Second to Cobb Sliding, I think this is the best action scene of Conlon's career.
For more information, please visit Legendary's website.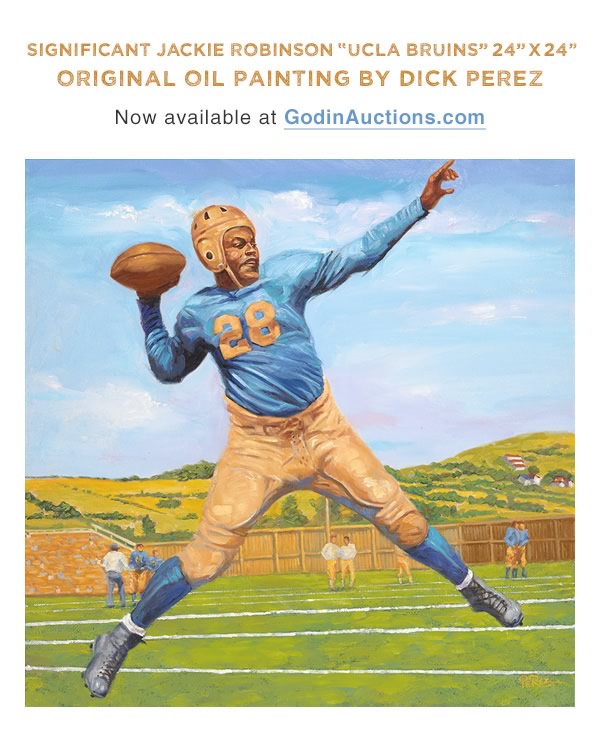 Now, revisiting football for the first time after a decade-long hiatus, Perez has fittingly chosen a subject with tremendous crossover appeal to both National Pastimes.
One of Dick's three all-time favorite ballplayers (along with Clemente and Greenberg), Jackie Robinson here strikes an iconic pose during his days as UCLA's All-American tailback.